NEWS!!
MISS READ: THE BERLIN ART BOOK FAIR & FESTIVAL 2023
We are excited to announce our second years participation at the upcoming edition of MISS READ at Haus der Kulturen der Welt in Berlin, opening Friday September 22nd 2023. See all the program and exhibitors here.
TSUNDOKU ART BOOK FAIR 2023
Printer Fault Press participates at Tsundoku Art Book Fair 2023 in Dublin, taking place from 13 until 16 of July at Printworks, Dublin Castle. More info here.
PRESALE LAUNCH!
We are excited to announce that our upcoming book by the Chilean artist Alejandro Leonhardt is available for presale. By the title "Hagas lo que hagas, toma tiempo hacer nada (Whatever you do, it takes time to make nothing)", the monograph compiles the last ten years of work from the artist.
We are offering the option of prepurchasing the book as well as the book together with a series of photographs, each one being an edition of 10. Please find more information here.
NEW BOOK: X SPLITS THE LINE
Dear readers, we are excited to introduce "X Splits the Line", a photo-book by the Italian artist Alice Peach (Bari, 1996). Please see a preview of the interior and read more about it following this link.

PARTICIPATION AT SPRINT MILANO ART BOOK FAIR!
Catch us in Milan for the SPRINT Milano Art Book Fair, taking place at Spazio Maiocchi, on November 26 & 27. We are there presenting our catalogue, including our latest book by artist Alice Peach, and new sticker and button freebies. Check the list of publishers and more info of the fair here.
TOUCH RELEASE, NEW BOOK AVAILABLE!
We've been working for the last year together with Maria Editions and Guy Lee to bring you the book TOUCH RELEASE, a visual essay from an exhibition by the Haegue Yang class in collaboration with Tom Engels, that took place between October – December 2021 at the Nassauischer Kunstverein Wiesbaden.
Hot from the press and ready for purchase right here!
NEW BOOKS AND EDITIONS!!
SOLD OUT!!
With a mix of sadness and excitement we announce that the book by Pau Waelder "You can be a wealthy/cash-strapped art collector in the digital age" has SOLD OUT!
We celebrate all 300 copies being in great hands and we thank all of you readers and bookshops for your support purchasing, recommending and distributing this very unique work.
If you are lucky you might still be able to find a copy at Pro qm (Berlin), DAM Digital Art (Berlin), La Central Bookshop (Madrid/Barcelona), Libreria Laie (Barcelona), Tambourine (Madrid).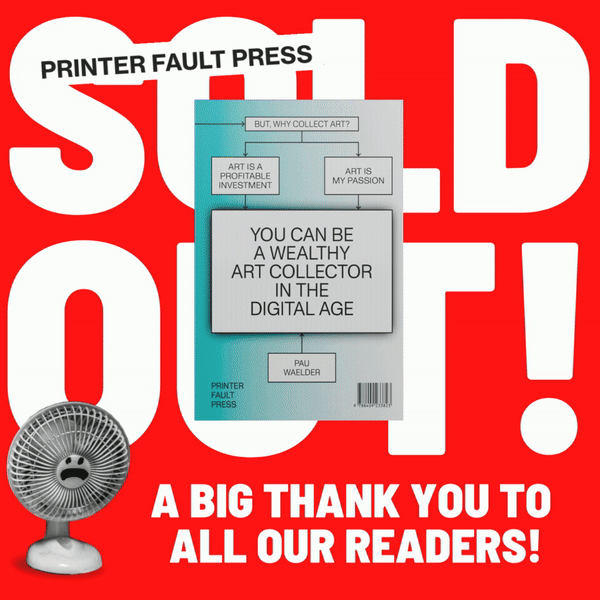 THE PRINTER FAULT PRESS "WHISPER COOKIES" at MISS READ 2022
We have invited the artists Judith Hopf, Živa Drvarič, Sands Murray-Wassink, Jasmine Gregory and Claudia Pagès Rabal to contribute with various text works each that will be part of individual fortune cookies. These will be displayed among the books on our MISS READ table for the visitors to take and keep the text piece with them. Edition of 23 copies per sentence. See you at HKW Berlin!

MISS READ – Berlin Art Book Festival 2022
We are thrilled to be part of the 2022 edition of MISS READ in Berlin. Find us there with new publications and editions by Sands Murray-Wassink, francisco m.v., Amba Sayal-Bennett and The Printer Fault Press "Whisper Cookies" featuring works by Judith Hopf, Ziva Drvaric, Jasmine Gregory, Claudia Pagès Rabal, Sands Murray-Wassink.

More info and list of exhibitors here.




MISS READ
April 29 – May 1, 2022
at Haus der Kulturen der Welt
John-Foster-Dulles-Allee 10
10557 Berlin
FREE ENTRY
MADRID ART BOOK FAIR "LIBROS MUTANTES" 2022
Find us in Madrid between 22 and 24 April as exhibitors of Libros Mutantes, the Madrid Art Book Fair that takes place at La Casa Encendida. More info and complete exhibitor list here.
BOOK REVIEW
NEURAL Magazine #68 – Critical digital culture and media arts
Our latest book by Pau Waelder has been reviewed by Alessandro Ludovico at Neural Magazine #68. You can read it on their website or buy it in print! Click here to check it out online.
NEW BOOK ALREADY AVAILABLE FOR 25€! (incl. vat)
OUR RADIO EXHIBITION ALREADY ONLINE📻🎙

The pilot episode of THE PRINTER FAULT PRESS RADIO SHOW
is already online at our RADIO section, check it out here!

It aired last Sunday November 8th at TOWN on Radio X Frankfurt.
With works by Elif Saydam, Sarah Księska, Mahya Ketabchi, Juan López, Diogo da Cruz, Alex Thake, David Ostrowski, Claudia Pagès, Hadas Auerbach, Tomás Maglione, Alicja Wysocka, Sonia Knop, Karl Holmqvist, Aileen Murphy, Mariam Kvirikashvili, Nina Nadig.
COMING SOON!!
EDITIONS 💅🏽
Printer Fault Press Logo Edition Totebag by