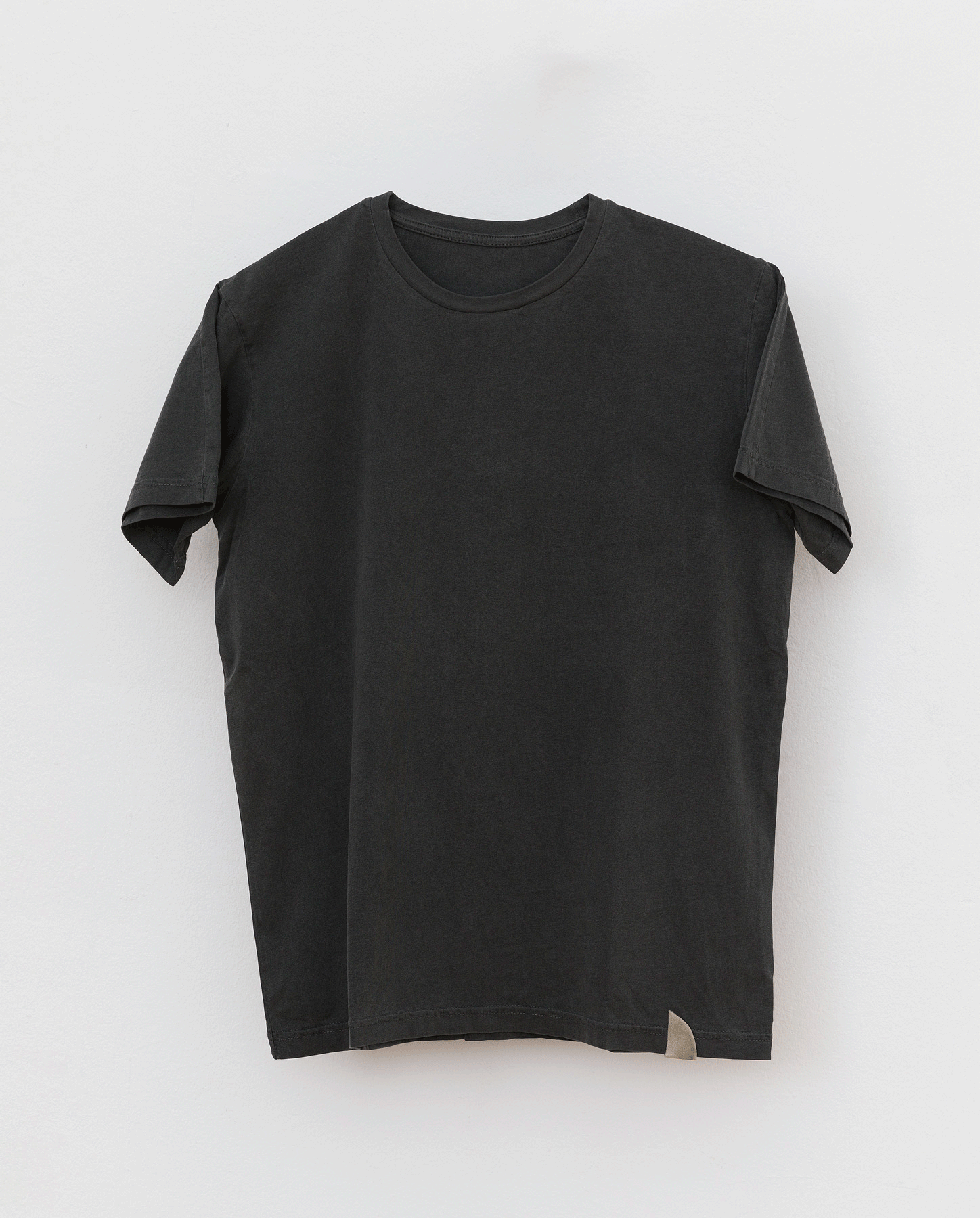 Ian Waelder
SUEDE, 2016
Piece of used skateboard shoe sewn to 100% cotton T-shirt.

Colors: Anthracite black and raw cotton white.

Every work numbered by hand on the inside label.

Edition of 60 (30 per color) with different variations.

Sizes: S, M, L, XL




SUEDE by Ian Waelder

This edition consisted in the elaboration of a basic T-shirt which has a piece of cloth from a used skateboard shoe sewn to it.

The T-shirt pattern has been designed specifically for the edition and handcrafted in Mataró by Laura García Baena (Super Twin Project). All the fabric has been produced and dyied locally.

Each T-shirt has one piece of shoe and the location varies in every edition, making it a unique piece.

The piece of shoe can be found on the waist, arm or back neck.

You can only get to chose the color of the cloth on your order.
About the artist:
Ian Waelder is an American artist (Madrid, 1993) based in Frankfurt am Main. Currently studying at the Städelschule as part of the class by Haegue Yang.
In his recent solo exhibitions, we find Das Kniegelenk (L21 Gallery, Palma de Mallorca, 2018) We feel untied, but why? (curated by Sonia Fernández Pan at Centro Párraga, Murcia, 2018), Who Would Be Interested in an Empty Parking Lot? (The Finnish Museum of Photography, Helsinki, 2018), SUEDE (L21 Gallery, Palma de Mallorca, 2016), The Noise, The Traces and Marks (LOCAL Arte Contemporáneo, Santiago de Chile, 2015) or To Play With Heights With a Kind of Void (DAFO Projectes, Lleida, 2015). He's also shown in two-person and group exhibitions, at Ana Mas Projects (Barcelona), Galería Bacelos (Madrid), Salón (Madrid), L21 (Madrid and Mallorca), Sant Andreu Contemporani (Barcelona) and La Casa Encendida (Madrid).
He has participated in publications and readings as a member of Mark von Schlegell's Pure Fyction seminar at the Kölnischer Kunstverein (Cologne), Johanne (Frankfurt) and Ashley (Berlin).
More information about Waelder:
http://www.l21gallery.com/artist/ian-waelder/